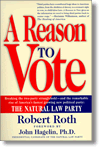 by Robert Roth is the best-selling, insider's account of the breaking of the two-party stranglehold and the remarkable rise of America's fastest growing new political party—the Natural Law Party.





Genetically Engineered Foods: Are They Safe? You Decide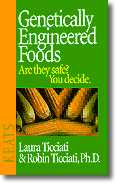 by Mothers for Natural Law executive directors Robin and Laura Ticciati—the first consumer book on genetic engineering, published by Keats.

Genetic engineering has the potential to alter the genetic heritage of life on earth for all future generations. Mistakes and pollution from other technologies can be cleaned up over time, but there is a possibility that genetically engineered organisms will influence life for ever. In this situation, it is not possible for science to demonstrate long-term safety. The debate on genetic engineering should be opened to the public, so that "we, the people" can decide
which way to go.
This little book summarizes the issue for the consumer. It covers the following points: (1) the differences between genetic engineering, cross-breeding, and natural evolution, (2) the broad categories of concern, (3) the current situation—crops, enzymes, animal feed, regulations—, (4) how to avoid genetically engineered foods, and (5) what to do to preserve the option of a genetically natural diet for future generations.