SUCCESS in Ohio!
I am thrilled to announce that the Ohio Democratic Party voted today to adopt the US Department of Peace in its state platform. This victory was won through the dynamic efforts of the Ohio NLP.
This groundbreaking Peace proposal, which was drafted by Rep. Dennis Kucinich with my input and wording from our NLP platform, calls for a cabinet-level US Department of Peace, funded at 1% of the military budget (or about $4 Billion per year)!
The US Department of Peace is designed to prevent violent conflict through scientifically proven, peaceful approaches. It also includes sponsorship for a University of World Peace, which will train professional peacemakers in effective conflict-resolution and peace-promoting skills. This is the ninth State Party to adopt this resolution in the last few months, and we're building momentum. The funding of this US Department of Peace, when adopted by Congress, will fulfill a core mission of the Natural Law Party.
According to Matt Trafis, Co-Director of the Kucinich for President Campaign in Ohio, "Today's triumph would never have happened without the Natural Law Party."
CONGRATULATIONS OHIO NLP!

A STAR in Ohio!

Ohio NLP superstar Kara Anastasio has won the Democratic nomination for US Congress (7th District) for the second, consecutive campaign—a remarkable achievement in itself.
Kara is waging a dynamic campaign with a top-flight campaign staff, and stands at 42% in the polls and rising. She has put long-term incumbent David Hobson on the run. (Hobson has one of the most deplorably pro-special interest, anti-environment, anti-peace voting records in Congress.)
While Hobson has raked in over $1 million in (largely) special interest dollars, Kara has refused all PAC money (despite wide-ranging endorsements and offers of PAC support by labor and other sectors). On an absolute shoe-string, her populist, anti-corruption message has put the senior Republican congressman on the defensive.
Kara has the greatest chance of winning a Congressional race of any of our candidates since 1992!
PLEASE GIVE HER A BOOST!
There are 30,000 readers of this NLP NewsFlash. If we each contribute $10 now, SHE COULD EASILY WIN THIS RACE! And we'd have a powerful, enlightened representative in the US Congress!
PLEASE! Let's all click www.votekara.net and contribute today!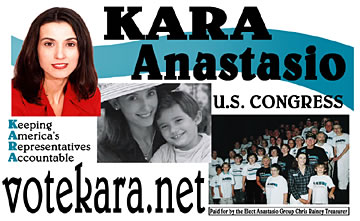 This is all such exciting news.
CONGRATULATIONS, AND MY DEEPEST THANKS TO EVERYONE!
John Hagelin
2000 Presidential Candidate